Cheetah seized at Heathrow Airport by UK Border Agency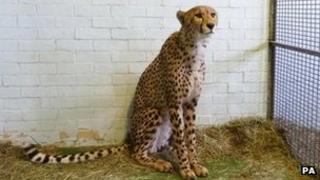 A cheetah has been stopped at London's Heathrow Airport by border officials who were suspicious about the animal's missing identity microchip.
The African cheetah, called Isaac, was on his way from a South African safari park to Russia when he was seized.
He is being kept in the UK until it is known why his microchip was missing, the UK Border Agency said.
The agency said all endangered animals had to be clearly identifiable by a unique marking to be allowed to travel.
The markings are used to tackle the trade in illegal animals and stop smugglers cheating the system.
Transporting endangered animals without microchips is a breach of the Convention in International Trade in Endangered Species.
Marc Owen, head of UK Border Agency operations at Heathrow, said: "The illicit trade in animals is a serious contributory factor in the threat of extinction faced by many endangered species, and that is why the rules around moving them are so strict.
"Each animal has to be clearly identifiable by a unique marking, for instance a microchip, to ensure they can be tracked and traced, and to prevent them being sold illegally.
"At this stage we do not know whether this was simply an error or whether there were other reasons for it."
He said that Isaac was in good health and would be kept at a UK wildlife park while investigations continued.
The big cat was one of four cheetahs which landed at the airport on 22 December.
Two female cheetahs were allowed to continue their journey while another male was sent back to South Africa, the agency said.