Cyclist death roundabout safety plans proposed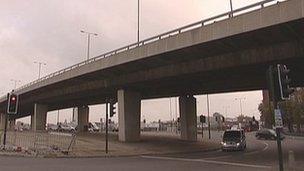 Transport for London (TfL) has proposed two options to improve safety for cyclists on the Bow Roundabout in east London.
Two cyclists were killed on the junction last year in collisions with HGVs.
One option is for traffic lights that give cyclists a head start to get across the junction ahead of vehicles.
Another is to put cycle lanes across the flyover with traffic lights to make it safer for cyclists to get on to.
TfL is consulting with cycling groups and local authorities and it is hoped the preferred option could be in place by the start of the Olympics.
Brian Dorling, 58, of Hounslow, west London, was killed on the Bow Roundabout on 24 October.
Svitlana Tereschenko, 34, of Bow, died on 11 November after a collision with a tipper truck.
A total of 16 cyclists died on London's roads last year.
Following the deaths in Bow, Mayor of London Boris Johnson asked for a review of all major schemes planned on TfL roads, as well as all junctions on the existing Barclays Cycle Superhighways.
He also asked for a review of HGVs being operated in London.
TfL said an "early start" phase at the traffic signals on the eastbound and westbound entrance to the roundabout would provide cyclists with a dedicated green light phase to allow them to travel around it ahead of other traffic.
In the proposals, it has also suggested reducing the number of lanes on the flyover from two to one in both directions, with new dedicated cycle lanes.
"We remain absolutely focused on delivering improvements at the roundabout before the 2012 Games," said Leon Daniels, managing director of surface transport at TfL.
He added: "We also continue to explore the potential for longer term improvements in the area."
The cycle "superhighway" was supposed to be one of four created around London to encourage cycling and to run towards the Olympic site in Stratford.
But in November, TfL director Ben Plowden admitted the company responsible for the capital's transport system would be "directing people deliberately away from the Bow Roundabout".
Related Internet Links
The BBC is not responsible for the content of external sites.