Brian Paddick proposes London 'early bird' fares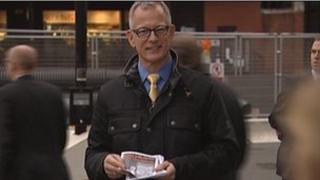 A one-hour bus ticket, early bird fares and part-time travel cards have been proposed by the Liberal Democrat mayoral candidate as ways to make fare prices in London fairer.
Brian Paddick said his ideas would make travelling more affordable and flexible and reduce peak-time overcrowding.
Mayor Boris Johnson has said his 5.6% fare increase this month will protect Tube upgrades and concessions.
Labour's Ken Livingstone has pledged to cut fares if he is elected on 3 May.
Mr Paddick's one-hour bus ticket would allow people to "hop on and off" as many times as necessary within an hour, he said.
'New approach'
His early bird fares would reward passengers who start their journeys before the morning rush hour and reduce peak volume, he added.
He said that part-time travel cards would help low earners who travel less frequently.
He added: "For the fourth year in a row Boris Johnson has racked up fares by far more than the rate of inflation.
"Blanket reductions are unrealistic but something can be done. It's time to take a new approach."
The average fare has risen by 5.6% this year with Tube, bus, London Overground, Docklands Light Railway, boats and Tram services affected.
'Hurting everyone'
Mr Johnson has defended the increase, saying the money is needed "to deliver a safe and reliable Tube fit for the 21st Century".
Jenny Jones, who will run for the Green Party in May's election, said the mayor was "hurting everyone, but mostly the low-paid who already struggle to pay the high cost of public transport to get to work".
Mr Livingstone has launched an advertising campaign with a cartoon image of the Conservative mayor as a pickpocket, saying "Beware: Pickpocket Operating on Public Transport".
He claimed the fare increases were "completely unnecessary".
But Mr Johnson has said that the fare cuts being suggested by the former mayor would "devastate local bus services and seriously undermine the vital improvements needed".