Hammersmith flyover damage 'worse than expected'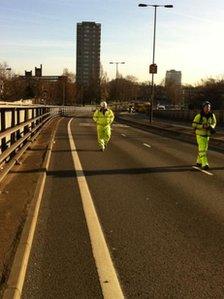 The damage to the cables in the Hammersmith flyover is worse than previously thought, London's Transport Commissioner Peter Hendy has said.
A steady seepage of salt water into the structure, built in the 1960s, has weakened the flyover, he said.
The cables under the carriageway are encased in concrete and spotting the damage is taking time.
But a solution has been found and some traffic could be allowed on to the flyover in the next few days.
The flyover closed to traffic on 23 December when defects were found.
About 90,000 vehicles a day travel along the 900m (0.5 mile) route.
Speaking to BBC London 94.9 Mr Hendy said: "We never expected to find any section of it that bad."
He explained that the flyover was designed to have under-road heating and was not meant to be gritted.
"The under floor heating never worked and over the 40 years it was in existence, before we took over in 2000, clearly salt water has gone steadily into the structure."
Since 2000 it was has been inspected regularly, but the current repair work is taking time as the cables are all encased in concrete.
"You can do it by ultrasonic testing and just before Christmas we found a set of which when we knocked the concrete off there was actually nothing there.
"We are just working as hard as we can so that we can establish just how strong it is with the aim of letting at least some traffic back over it in the next few days."
On the issue of the safety review of the Bow Junction where two cyclists were killed in collisions last year Mr Hendy said he will meet with cycling campaigners later this week to discuss a possible solution.
Several cyclists gathered outside King's Cross Station in the evening to highlight the number of cyclists killed on the roads.
Related Internet Links
The BBC is not responsible for the content of external sites.