London 2012: Jobs secured at two Olympic Games venues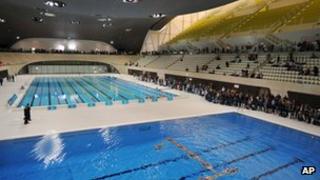 More than 250 jobs will be created at two London 2012 venues when they are taken over by different companies after the Olympic Games.
Greenwich Leisure Limited (GLL) will operate the Aquatic Centre and Handball Arena.
It has also been announced that Balfour Beatty WorkPlace will run the observation tower.
The Olympic Park Legacy Company said six of the eight permanent venues had had their future settled.
Some 254 workers with 86 apprentices will be employed at these venues.
The Olympic Park Legacy Company said it estimated that up to 800,000 people would use the Aquatics Centre each year while the Handball Arena will be used concerts, exhibitions and sports events.
The observation tower, the 115m (377ft) ArcelorMittal Orbit, is expected to attract up to one million visitors a year.
Both companies have agreed to employ local workers at the east London venues.
The announcement means that the Olympic Stadium and International Press and Broadcast Centre are the remaining venues that still need to have their long-term future decided.
Mayor of London, Boris Johnson, said: "This a ringing endorsement of our 2012 legacy and regeneration plans for east London and an amazing achievement by the Legacy Company.
"To find operators to take over these world class facilities so far ahead of the Games and to secure their commitment to spread jobs and opportunities throughout the local communities is the icing on the 2012 cake."