Celebrities appeal on Twitter after pug dog stolen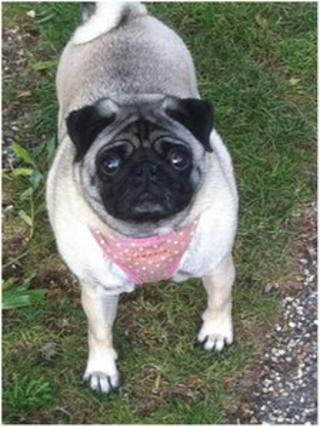 Celebrities have taken to Twitter to help trace a pedigree pug dog stolen in a burglary in north London.
Three-year-old Molly was taken from the home in Stapleton Hall Road, Crouch End, at about 13:00 GMT on Friday.
Since then, presenter Jonathan Ross, actress Joanna Page and model Bianca Jagger have joined Twitter users appealing for help for her return.
Molly's owner Catriona Fox, 27, said: "She means the world to us. We're completely desperate to get her home."
Ross tweeted in return: "So sorry to hear that! You poor things."
Gavin and Stacey actress Page tweeted: "Anyone who lives in N4 area of London please look out for my friend's dog. Molly was stolen yesterday."
Bianca Jagger, who is also a human rights campaigner, and actress Sheridan Smith also tweeted appeals to find Molly.
Ms Fox said she and her boyfriend Justin Leibenburg had put up posters and handed out 200 leaflets in the area.
"She's like our child. Someone saw two young men carrying her out," Ms Fox said.
"Molly has a very sensitive stomach so if she is given the wrong food, she starts to vomit.
"They were either intending to steal her or it was opportunistic."
The Metropolitan Police said several other items were also stolen in the burglary and investigations were continuing.
No arrests have yet been made.