Kristy Bamu 'witch torture' couple 'had attacked before'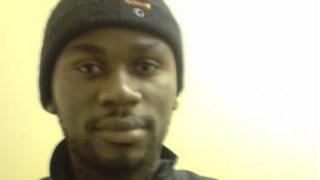 A couple accused of torturing a boy to death because they believed he was a witch had previously accused another teenager of witchcraft, a court heard.
Kristy Bamu, 15, from Paris, was found dead in Newham, east London, on Christmas Day in 2010.
His sister Magalie Bamu and her boyfriend, Eric Bikubi, both 28 and living in Newham, deny murder.
The Old Bailey heard they made a woman cut her hair to "release the witchcraft".
Prosecutor Brian Altman, QC, said Naomi Ilonga, 19, was a family friend who stayed with the couple for a month in August 2008.
He said Mr Bikubi told Magalie Bamu to throw anything away that Naomi had touched, including articles of clothing and pots, pans and plates.
"Bikubi did not allow them to eat for three days and told Naomi to pray. He prayed to release Naomi's 'spiritual soul'.
"They stayed and slept together in the living room for the three days but prayed all night and slept little.
"Naomi had to consent to the cutting of her hair, which was long and of which she was so proud, to release the witchcraft."
It was also alleged in court that Ms Ilonga had also been grabbed and slapped hard on the back.
'Armoury of weapons'
On Thursday, the court heard that Kristy Bamu had 101 injuries and died from drowning and being beaten with a metal bar.
Prosecutors talked of acts they described as "depraved", "wicked" and "cruel".
Kristy and his siblings were visiting the couple for Christmas, but Mr Bikubi had accused the boy and two of his siblings of witchcraft.
All three were beaten and other children were forced to join in the attacks. But it was Kristy who became the focus of Mr Bikubi's attention, the prosecution said.
The teenager was said to be in such pain after days of being hit with an "armoury of weapons" including sticks, pliers, a metal bar, hammer and chisel, that he begged to die.
Jurors were told that Kristy died when he was "too exhausted" to resist and keep his head above water when Mr Bikubi put him in a bath. Mr Bikubu realised too late Kristy was not moving.
Mr Bikubi has admitted manslaughter on the grounds of diminished responsibility, a plea not accepted by the prosecution.
He has also admitted assaulting Kristy's siblings.
Ms Bamu denies the murder charge, as well as two charges of causing actual bodily harm to her other siblings.
Mr Altman said she had taken part in the abuse and had been "stoking the fire of violence".
The defendants are originally from the Democratic Republic of the Congo where witchcraft or sorcery - called kindoki - is practised in some churches, said Mr Altman.
The trial continues on Monday.