Are libraries a priority in a downturn?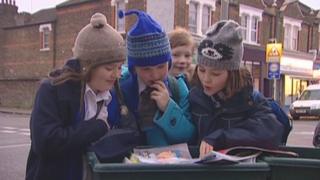 When Chancellor George Osborne announced the biggest public spending cuts in decades in December 2010, he declared: "It is a hard road, but it leads to a better future."
Thirteen months on and the effects on local authorities across the country have been keenly felt, with councils having to make difficult choices in all areas of service provision.
A perhaps unexpected flashpoint for council taxpayers and local authorities has been over library services.
Across the UK one in 10 libraries has been under threat of closure, more than 400 in all.
Yet, London appears to have escaped relatively unscathed with just three councils definitely closing libraries, in Brent, Lewisham and Waltham Forest - 13 in total.
Camden is handing three of its libraries over to local groups to run and three libraries are under threat of closure in Barnet and Barking & Dagenham.
The remaining 27 London boroughs have pledged to keep their libraries going, although the standard of services remains to be seen.
So is it purely a matter of finance for councils or political expediency?
'Soft option'
Kensal Rise Library in north-west London saw its wooden doors padlocked for the last time on 13 October last year on the day campaigners lost their High Court bid to save six local libraries run by Brent Council from closure.
Two months later the Court of Appeal refused to overturn the decision, judging it the "right conclusion".
The leader of Labour-run Brent Council, Councillor Ann John, said it was great news for the borough as the remaining six libraries would be "improved".
Despite this the fight goes on, and 70 volunteers are rostered to help run a stall outside Kensal Rise Library, offering some 2,000 donated books for lending.
Standing in the pouring rain, head of the Brent Libraries SOS campaign Margaret Bailey said three months on and residents still felt strongly about the need to have a local library service, even in a time of austerity.
She said: "I pay my taxes and I want some of my taxes to go towards running a library service that is free to the local community."
It is a sentiment echoed by Hillingdon councillor Henry Higgins, who is in charge of libraries in his borough.
'Slash and burn'
He said the service was often seen as a "soft option" for council cuts and that with a bit of creative thinking it could be saved.
"The biggest question for every authority is 'do they value their library service?'. If you value your service you will find ways of finding the money," he said.
"Hillingdon did a lot of restructuring behind the scenes to make sure we had value for money. We made sure our books weren't coming to our central library but were distributed to our local libraries themselves and that saved £250,000."
Mr Higgins said local authorities could reduce the numbers of backroom staff to cut outgoing costs and reinvest in updating libraries to avoid a "slash-and-burn" effect.
He said: "Brent is a perfect example, going to judicial review. It's cost them hundreds of thousands of pounds so why waste that money on a judicial review? Put it back into the library service."
Other boroughs are looking at private sector support to help maintain services.
Councillor Jonathan Cook, deputy leader of Wandsworth Council, said there were no plans to shut libraries because "they are incredibly important" but investment was having to be found to keep them going.
He said: "We have had a very positive experience over the years with tendering services so we thought we'd explore that.
"We've had expressions of interest from over 30 organisations around the world who run libraries in different ways so we're exploring that as a way of enhancing the service and do it more cheaply."
'I was appalled'
However, in 2010 Wandsworth did consider the closure of one local library when initially faced with spending cuts - York Gardens Library in Latchmere Ward.
When Sonia Francis-Mills, a regular user of the library, heard it was earmarked for closure she and others challenged it.
"As soon as it was public knowledge the library was under threat of closure, I was appalled. It was highly used but perhaps not in a traditional library way.
"We did our own research to work out how residents used the library. We asked over 1,000 people and many used it for social and educational reasons but not to borrow books."
Ms Francis-Mills and her fellow campaigners submitted their findings to the council and eventually the plan was abandoned.
She and others now volunteer at the library.
She said: "We do what we can but being a librarian is a professional job.
"Volunteers can never replace librarians but we can support them."