Race rant accused Emma West to face trial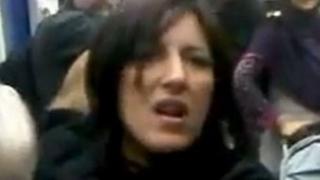 A woman charged over an alleged racist rant on a tram that was captured on video and seen online 11 million times is set to face trial at a Crown Court.
Emma West, 34, of New Addington, has been charged with two racially aggravated public order offences, one with intent to cause fear.
She gave Croydon Magistrates' Court no indication of her plea and said she wanted to face a Crown Court trial.
Ms West was given bail and will appear at Croydon Crown Court on 17 February.
Magistrate Ian Hornby granted Ms West bail on the condition that she does not travel on a tram within Croydon and Sutton, lives and sleeps at her home address and does not comment on the case.
Ms West was arrested after footage, filmed on a Croydon-to-Wimbledon tram, allegedly showing her racially abusing fellow passengers was posted on YouTube.
She was charged with intent to cause fear or provocation of violence after a passenger, Ena-May Eubanks, said she hit her left shoulder with a "closed fist".