Tube strike: Aslef puts January walkout on hold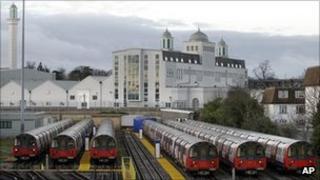 Three London Underground (LU) strikes planned for January and February have been put on hold while more talks are held over a rota row, a union has said.
Drivers walked out on Monday in a dispute regarding Boxing Day shifts.
Aslef said it wanted additional pay and leave for bank holiday working but LU insisted its demands were "outrageous".
The union said "meaningful" negotiations were expected to begin next week with Tube managers, while LU said it hoped to "resolve" the issue.
The additional action had been due on 16 January, 3 February and 13 February.
The 24-hour strike on Monday led to disruption on every underground line which had been due to run a service, with many routes curtailed and trains stopping earlier than usual.
Aslef's general secretary, Mick Whelan, said next week's talks would focus on "staffing arrangements for drivers working on Boxing Days in the future".
LU's chief operating officer, Howard Collins, said he welcomed "the constructive approach taken by the leadership of Aslef at our discussions".