Hammersmith Flyover to stay shut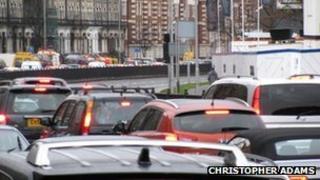 The Hammersmith Flyover will remain closed another week at least - and Transport for London has said it cannot rule out it staying shut for months.
The closure of the west London flyover has caused long delays since it was shut for emergency repairs on 23 December.
No physical repairs have begun on the site of the bridge, although TfL says design work to find a fix has begun.
The organisation says safety is its top priority.
The bridge, which normally handles 90,000 vehicles a day, was shut after damage to cables in the structure caused by water.
That included salt water present due to grit being laid during the winter months.
The subsequent corrosion and weakening of the cables has led to a "serious structural defect".
TfL said it had "no plans" to demolish the flyover, and said it was working "around the clock" to fix the problem.
Paul Watters, head of roads policy at the AA, said: "We would urge TfL to throw everything at the problem to get the flyover open.
"Perhaps they could get it strong enough that cars were able to cross, but heavier goods vehicles were not allowed - that might be a solution."
Leon Daniels, TfL's director of surface transport, said: "Our team continues to work night and day alongside the world's leading structural engineers to fully understand the extent of the flyover's structural problems.
"I have been inside the flyover and seen for myself the unique issues we face.
"Safety must be our top priority and we have not taken the decision to close the flyover lightly."
He added: "We are working flat-out to determine what measures we must put in place to safely reopen the flyover as soon as possible.
"I apologise for the disruption, but assure Londoners we are doing all we can to reopen the flyover and to minimise the disruption the closure is causing."