London gets ready for New Year's Eve's firework display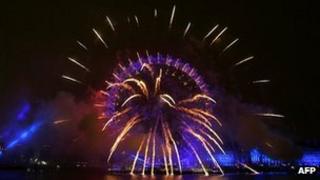 Preparations are under way in London for some of world's biggest New Year's Eve celebrations.
Up to 250,000 people are expected to head to the banks of the River Thames for the annual fireworks display.
This year's celebrations will have a special significance, as it marks the start of the year in which London will host the Olympics.
London Ambulance Service said it was preparing for a surge in calls, while 3,000 police officers will be deployed.
John Hopson, assistant director of operations from the service, said "booze buses" would be deployed to look after people who drink too much, so that ambulances could be freed up to look after serious emergencies.
"Last New Year's Eve was one of the busiest nights we've ever had, taking just under 800 calls an hour - the average is 180," he said.
'Designed for television'
One of the main attractions in central London will be the fireworks display on the Southbank which will be shown live on the BBC and on worldwide news outlets.
Dan Ritterband, director of marketing at the Mayor of London's Office, said: "As far as London's international reputation is concerned, having those shots beamed around the world as part of the celebrations for new year are absolutely vital to the economic prosperity."
He added: "Times Square is colder, Sydney is warmer, but without doubt, London has the best fireworks in the world."
Jim Donald, executive producer of Jack Morton Worldwide - the company that puts on the firework display - said although the event was great to watch locally, it was primarily designed for television broadcast.
Buses, the tube, DLR, tram and some selected National Rail services in Greater London will run all night and be mostly free from 23:45 GMT on Saturday until 04:30 GMT on New Year's Day.