Oxford Street attack victim stabbed in heart, police say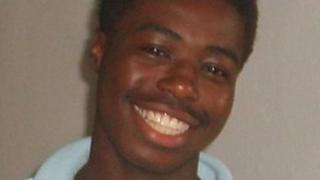 A man who died in an attack on London's busiest shopping street during the Boxing Day sales was stabbed in the heart, the Metropolitan Police said.
Seydou Diarrassouba, 18, from Mitcham, south-west London, was killed on Oxford Street following a fight in a sports shop on Monday afternoon.
Eleven people, aged between 16 and 22, have been arrested.
A cordon remains in place at the Foot Locker store where Mr Diarrassouba died and flowers have been left outside it.
His death, at 13:45 GMT, led to chaotic scenes as officers tried to restrain a crowd which had gathered outside.
There had been a brawl inside the shop which spilled out on to the pavement, police said.
Mr Diarrassouba suffered a single stab wound to the heart, a post-mortem examination at Westminster Mortuary found on Tuesday.
Appeal for footage
An officer showed a Taser stun gun to try to control some "extremely agitated" spectators but Scotland Yard said it was not deployed.
Shortly after 18:00 GMT, there was a second stabbing at Oxford Circus, not far from the scene of the killing.
A man, aged 21, was left with a leg wound which was not life-threatening.
Initially, police said three suspects had been detained over the second attack, but they later clarified that no arrests had been made.
Blood-stained clothing was left on the kerbside at Oxford Circus, a busy junction where Oxford Street meets Regent Street.
Several suspects were being sought by Scotland Yard.
Det Supt John Sweeney, from the Met, said investigators were aware a number of people had been filming the aftermath of the first stabbing and were anxious to obtain their footage.
A video posted online shows hundreds of shoppers waiting behind police lines and some people trying to break through the cordon to reach Mr Diarrassouba.
'A bit stunned'
One of the suspects being questioned over the killing is aged 16.
Three others are 17, while there are five 19-year-olds and two aged 22 currently in custody.
Officers have recovered a number of weapons from the area where the stabbing took place, which is close to Bond Street Tube station and several large department stores.
They have not confirmed whether the weapon used against Mr Diarrassouba has been found.
Oxford Street had reopened by the start of trading on Tuesday, aside from the cordon outside Foot Locker, which itself remained shut to customers.
Jace Tyrell, from the New West End Company, which represents shops in Oxford Street and Bond Street, said there had been "shock" among retailers over the stabbings.
"This is an extremely rare event to have happened on Oxford Street, and I think we're still a bit stunned by what happened," he said.
He said police officers had been "very reassuring", however, by pledging to increase patrols in the area on Tuesday.