Oxford Street stabbing: Teenager dies near Foot Locker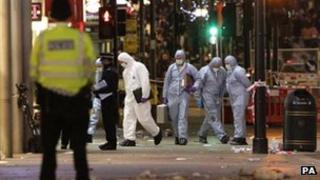 An 18-year-old man has been stabbed to death in London, on one of the UK's busiest shopping streets.
The victim died outside the Foot Locker sports shop on Oxford Street, near the junction with Stratford Place.
Police said they were called to the scene at about 13:45 GMT. Eleven people were arrested and part of the street, near Bond Street Tube, was closed.
Det Ch Insp Mark Dunne said there appeared to have been two groups of young people "opposing each other".
The incident happened as tens of thousands of people hunted for bargains in the area's shops, during what was a busy day for Boxing Day sales across the UK.
Police said there had been a second stabbing on Oxford Street in the evening, in which a 21-year-old man was injured in the thigh, but they said it was too early to confirm whether or not the two incidents were connected.
Weapons recovered
However, Insp Bruce Middlemiss, the duty officer for police in Westminster, said: "They are a similar sort of circumstances, youths, possibly from the same south London area."
Det Ch Insp Dunne, of the Metropolitan Police's homicide command, said there was no suggestion the earlier, fatal incident was gang related, but he was "not going to discount it".
He said it appeared a weapon had been involved which "may well have been a knife".
"A number of weapons have been recovered from that scene, whether I have got the murder weapon I don't know.
"There's an assortment of items but no guns.".
The detective said it was still not clear whether the incident had happened inside or just outside the Foot Locker store.
He added: "This is probably the busiest place in the UK right now, on the busiest shopping day, so it's been difficult for us to piece together what has happened."
He urged witnesses to come forward.
Several shops in the area were forced to shut early because they were inside the police cordon.
An employee at the nearby Disney Store said the company's outlet had been "quite badly affected" and was "unlikely to open again today".
Police said the second stabbing on Monday took place close to the junction of Oxford Street and Regent Street at about 18:20 GMT.
'High police presence'
They said the victim was taken to hospital and his condition was not thought to be life-threatening.
Three males have been arrested and are in custody.
Mr Middlemiss said that despite the day's two attacks, the public should not feel unsafe shopping in the West End.
"There is a high police presence here, we have a number of operations in place already for the shopping times because we were aware of the amount of people who would be here.
"We are going to go back and review the intelligence for both incidents and see if we need to increase the police presence here, but at the moment we are not concerned for ordinary members of the public who are shopping."