Boxing Day Tube strike: Shoppers hit by delays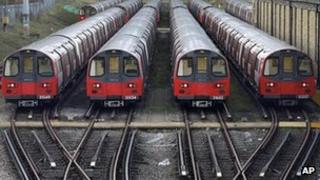 Travellers on London's Underground have been disrupted by a 24-hour strike staged by drivers.
The dispute is over the Aslef union's demand for extra pay for staff working on the Boxing Day public holiday.
Most Tube lines have experienced some level of disruption since the strike began at midnight, according to Transport for London's website.
London Underground boss Howard Collins described the demand for "triple pay" as "outrageous".
The strike affected shoppers heading for the start of Christmas sales, and football fans.
Transport for London (TfL) had warned of "severe disruption" and urged travellers to check its website before starting their journeys.
Circle Line suspended
Throughout the day its website has been reporting most lines suffering some level of disruption.
The Bakerloo Line was running between Queen's Park and Elephant and Castle only, while there were no Central Line trains.
The entire Circle Line was suspended, and the only District Line trains in operation were between High Street Kensington and Ealing Broadway, plus West Ham to Upminster.
The Hammersmith and City Line was not running east of Baker Street, and on the Jubilee line there was a special service operating between Stanmore and Finchley Road and between Stratford and North Greenwich, but no trains on the rest of the line.
There were Metropolitan Line trains from Harrow-on-the-Hill to Baker Street only, while the Northern Line was running between Morden and Stockwell, and Edgware and Euston only.
The only Piccadilly Line services were between Heathrow Airport and Hammersmith, and Finsbury Park to Cockfosters.
There was a special service operating on the Victoria Line.
Mr Collins said more trains than had been anticipated had run during Monday.
"We are operating a service on most Tube lines, including key lines serving the West End, supported by London's 700 bus routes and extra buses.
"However, the strike is causing disruption."
'Long-standing agreement'
Arsenal moved their Premier League game with Wolves from Monday to Tuesday because of the strike, but Chelsea's game with Fulham went ahead at Stamford Bridge.
The BBC's Daniel Boettcher said Aslef had argued that choosing to work on Boxing Day should be voluntary and drivers who agreed to do so should be paid extra as well as getting a day off in lieu.
But Aslef general secretary Mick Whelan told the BBC News Channel triple pay was "not quite what we've asked for", although it had been a negotiating point.
"What we're asking for is a guaranteed level of service where people can be guaranteed at least every other year, every third year, a day off, and - for those who do come in - an incentive." He said the nature of the incentive was still being negotiated.
"[London Underground] have picked on the worst aspect of a comment that was made and have used it continually throughout this process."
Mr Whelan said the original dispute focused on "quality time off".
He said the union had realised an agreement it had made in the mid-90s, when virtually no trains ran on Boxing Day, had "become devalued" as the number of trains running on Boxing Day had increased to be the same as any other day of the week.
"It's unfortunate that it happens at a time when we are in recession and possibly going into a double-dip. Truly, we'd like to see and help London business grow," said Mr Whelan.
Salaries 'inclusive'
London Underground says it has a long-standing agreement with all of its trade unions covering bank holidays. It has described the demand for additional payment as outrageous.
Chief operating officer Howard Collins told BBC Radio 4 that London Underground had already met some of Aslef's concerns.
"We have reduced the number of train drivers working this year, giving people more quality time off - down to 880 drivers from 1,100 last year," he said.
But Mr Collins said he could not "pay people twice" and that train drivers' salaries were all-inclusive and covered Boxing Day and Christmas Day.
"If I did this for this trade union, then 18,000 other workers who've agreed the '92 agreement would have to be paid as well," he added.