Closed Hammersmith flyover causes disruption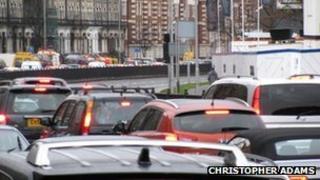 Motorists have faced disruption a day after a major flyover in west London was closed for urgent repairs.
The Hammersmith flyover, which carries traffic from the M4 and A4, was shut on Friday after defects requiring repairs were spotted.
There were queues up to North End Road to the east of the flyover and up to Rivercourt Road in the west on Saturday morning but they eased later.
The flyover is expected to remain shut until at least early January.
The road, which handles about 90,000 vehicles a day, has been closed as cables which help to hold the concrete structure in place need urgent repairs.
TfL said engineers and contractors would be "working around the clock" over the Christmas and new year to complete the assessment and decide what action needed to be taken.
Boxing Day matches
There is a diversion in place through Hammersmith Gyratory but TfL is advising people to try to use alternative routes.
Motorists faced severe disruption on Friday with five-mile tailbacks heading out of London and two-mile queues heading into the city.
Football fans heading to the Boxing Day matches - Chelsea v Fulham and Brentford v Bournemouth - could face problems as most trains will not be operating and there is a 24-hour Tube strike on the same day.
Chelsea Football Club warned fans about the flyover closure and asked them to plan their routes carefully.
Drivers can find the latest traffic information on the BBC London travel website.