Occupy London camp at St Paul's to remain until January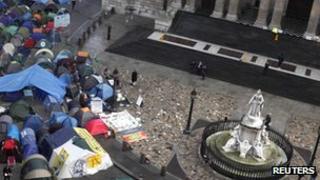 The Occupy London camp will remain outside St Paul's Cathedral until at least 11 January after the High Court reserved its decision on eviction.
Judge Keith Lindblom said he would not rule on whether to grant possession and injunction orders before that date.
Lawyers for the City of London Corporation (CLC) and the protesters made their closing speeches earlier.
Protesters in the courtroom waved their hands at the judge when he gave the possible date for the decision.
Earlier this week Judge Lindblom was given a tour of the site by the protesters.
It had been thought the decision on the camp would come on 3 January.
'Semi-permanent' campsite
A statement from the group said the camp would be "open for Christmas period as High Court says no judgements on OccupyLSX [Occupy London Stock Exchange] occupation at St Paul's until at least 11 January and the Bank of Ideas until 11 January".
Counsel David Forsdick, for the CLC, said the local authority was not seeking to prevent lawful and peaceful protest, but the right to protest did not justify a semi-permanent campsite on the public highway.
He added that the camp now has about 150 tents and there was a risk it would continue indefinitely.
The presence of the camp was interfering with the rights and freedoms of visitors, worshippers and affecting businesses, he said.
Michael Paget, for Tammy Samede - a supporter of the camp, said the courts must jealously guard freedom of expression and said the camp did not prevent worship at the cathedral.
He asked: "Should citizens be stymied when exercising their rights of assembly and expression under the common law and the Human Rights Act 1998 by national property, planning or local government law?"
The protest camp was set up outside the cathedral on 15 October.
Since then the protesters have "occupied" Finsbury Square, a building belonging to the Swiss Bank UBS in the City and the disused Old Street Magistrates' Court.