Boxing Day Tube strike: No appeal against ruling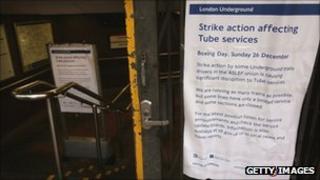 London Underground (LU) has said it will not appeal against the High Court's refusal to halt a 24-hour Tube drivers' strike on Boxing Day.
Mr Justice Eder rejected LU's attempt to secure an injunction on the grounds it claimed Aslef breached trade union laws while balloting for strike.
Aslef wants triple pay and an extra day off for drivers for working on the bank holiday. It said the ballot was lawful.
LU said it would not go to the Court of Appeal to try to overturn the decision.
Lawyers for LU argued in court that the union had created a "false mandate" for the strike by extending the ballot to those people who were not rostered to work on the bank holiday.
Disruption 'regrettable'
It also cited the inconvenience the walk-out would cause to shoppers and businesses on the first day of the post-Christmas sale.
Mr Justice Eder said the disruption caused because of the strike was "regrettable" but the strike was "inevitable".
"I do not consider that the fact that the ballot included persons who would not themselves go on strike renders the ballot held in breach of (legislation)," he added.
Aslef members plan to walk out again on 16 January, 3 February and 13 February over the same issues.
Arsenal moved their Premier League game with Wolves to 27 December because of the strike.
Services were severely disrupted on Boxing Day last year when drivers walked out over the "long-running" dispute.