Can rough sleeping in London be confined to history?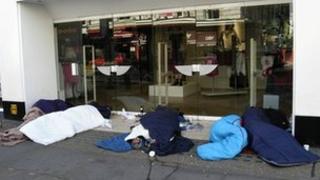 Organisations that try to take homeless people off London's streets have spent Christmas running soup kitchens and offering shelter.
But they have mixed views on the pledge from three mayoral candidates in 2008 to end rough sleeping in the capital by the end of 2012.
So with a year to go, how realistic is that target?
A total of 2,878 rough sleepers were contacted by outreach services in London between July and September, a 17% increase compared with the previous year according to the latest figures from the Combined Homeless and Information Network (Chain).
But that rise could be interpreted as a sign of more people sleeping rough, or that outreach services are doing a better job of helping rough sleepers off the street.
In 2009, London Mayor Boris Johnson set up the London Delivery Board (LDB), which brought together representatives from the mayor's office, central government, councils and charities in an attempt to end rough sleeping.
After BBC London spent a night last week talking to rough sleepers in Square Mile, LDB chairman Richard Blakeway said: "It's entirely achievable to stop people spending a second night on the street by the end of 2012.
"We've built a system that means if anyone finds themselves on London's streets, they don't stay there for more than a single night."
Rapid response
"We are ensuring entrenched rough sleeping is a thing of the past," Mr Blakeway added.
The No Second Night Out (NSNO) scheme, launched in April, attempts to provide a rapid response to new rough sleepers.
Through the scheme, if outreach teams find someone new to the streets, they are given the chance to be taken to an assessment hub.
At the hub, they will be offered an alternative to sleeping out for a second night.
NSNO director Petra Salva said the target to eradicate rough sleeping was realistic.
"You know why it's doable?" she asked.
"Because we know those people who are living on the streets.
"If we know who you are, we know what some of the resisters are and we're not going to give up."
A key way NSNO is trying to help rough sleepers is by offering to "reconnect" them with somewhere they have access to services.
This sometimes means suggesting they move away from the capital.
Mr Blakeway said: "For most people reconnection is the right thing.
"It means they have access to services and also often have the support of family and friends."
But the Reverend Andrew Picton, of Muswell Hill Baptist Church, north London, is critical of the approach.
"In a free country, you can't stop people moving around," he said.
"People may have been driven away from home because of family, drugs or mental health issues," he added.
"If the capital can provide an environment in which they are helped, it's the place to be."
But Mr Blakeway said: "If reconnection is not the right solution or it is dangerous to reconnect someone, clearly that won't happen."
A separate approach - LDB's Rough Sleeping 205 scheme - is being taken to try to help the capital's most entrenched rough sleepers.
"We've got down to a really difficult core group," said Ms Salva.
Soup kitchens
"But there have been some amazing success stories. Just by using a personalised approach, people have moved off the streets."
But she said that some alternative measures may not provide a helpful solution.
"London is a magnet," she said. "I would argue in the 21st Century we don't need services on the street.
"Sometimes the question is: 'is that helping in the long term?'.
"I've seen too many people suffer. Too may people die."
But Mr Picton, whose church provides a two-course meal to up to 40 people five days a week, defended street services like soup kitchens.
"If the soup kitchen wasn't needed then we'd be absolutely delighted. But we're responding to a need," he said.
"The route cause of homelessness needs to be dealt with.
"That's to allow people to live stable lives in their own homes or rented accommodation."
Leslie Morphy, chief executive of the homeless charity Crisis, said: "We need a bigger pool of temporary accommodation and that means resource."
She added that she was "dubious" if the target to end rough sleeping would be met.
"We're entering the 40th anniversary of our services and frankly we're expecting to be busier than ever in terms of rough sleepers," she said.
Ms Salva agreed that more needed to be done to stop people finding themselves on the street in the first place.
"There's a whole other conversation to be had about no first night out," she said.
Meanwhile, plans have been announced to expand the NSNO scheme.
Last week, Tory housing minister Grant Shapps announced: "We have dedicated £8m to extend No Second Night Out outside the capital."