Royal Parks says Hyde Park concerts 'in doubt'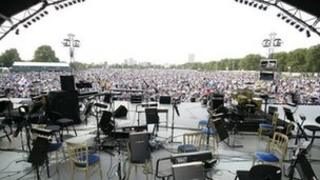 Possible restrictions on volume and the number of concerts held in Hyde Park threatens some shows, says Royal Parks.
Westminster Council is reviewing Hyde Park's licence to host events, after complaints from residents about noise rose by 50% over two years.
The council said it needed to balance the needs of residents and concert-goers.
Royal Parks, which manages the park, said restrictions would leave it with a funding gap.
'Not penalising anyone'
At the moment, the Royal Parks can hold 13 major events a year, with five allowing up to 79,999 people.
This year 11 were held, including two Proms and concerts by artists including Kings of Leon and the Chemical Brothers.
But Westminster City Council will review the number of concerts and the level music can be played at.
The council will also consider crowd numbers.
It said residents sent 130 noise complaints this year and said there had been problems with people "urinating in the street and littering pavements as they leave the venue".
The public can respond to the review before 15 January.
The council's cabinet member for enterprise and volunteering, Councillor Brian Connell, said: "This is not about penalising anyone.
"This is about balancing the needs of residents and their rights to a peaceful evening, with the enjoyment of concert-goers and the desire of Royal Parks to raise revenue through staging these events."
'Unviable venue'
The staging of live Olympics screenings and concerts planned for next year are not included in the review however the council has agreed that an 18-day long series of concerts will be held in the park to celebrate the Games.
A spokesman for Royal Parks, which manages 5,000 acres of London parkland, said if the council recommended cutting noise levels from the current 75 to 73 decibels, it would make it an "unviable concert venue".
He added: "If we were to lose concerts from 2013, then that would give us a £1.5m funding shortfall."
He said that money made from staging concerts funds the management of eight Royal Parks, which is essential in light of government cuts made over the last two years.