Prank 'love' call to 999 London operator over Christmas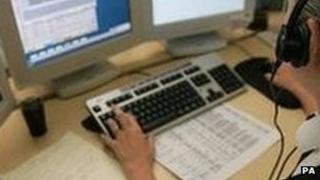 A prank caller rang the 999 emergency number to say "I love you", the Metropolitan Police (Met) has said.
A total of 948 calls classed as "nuisance and abandoned" were received on Christmas Day, Boxing Day and New Year's Eve last year in London.
About 3,650 calls were made to the 999 line last Christmas Day, of which 274 were nuisance and or abandoned.
The Met has urged people not to misuse the 999 number and to dial 101 for non-emergencies.
Fewer than a quarter of the calls to 999 need an emergency response, the Met said.
On Christmas Day 2010 there were 11 reports of sexual offences, 513 reports of violence against a person, and 123 calls reporting domestic incidents, ranging from arguments to serious physical violence.
'David Cameron' calling
The busiest hours for operators were between 21:00 GMT and 03:00 GMT and the most calls were from the London boroughs of Newham, Haringey, Ealing, Croydon, Brent and Barnet.
The "love" caller disconnected his phone after saying "I love you with all my heart darling", the Met said.
Among the nuisance calls was one from a man claiming to be David Cameron who he said he lived at 10 Downing Street.
Another caller said someone was in her house and she could see the person through an X-ray machine she had invented.
Ch Supt Jim Read said: "Deliberate misuse of the 999 emergency system presents a very real risk our ability to effectively respond to genuine emergencies."
He urged people to dial 101 for non-emergencies such as reporting a stolen car, a minor traffic collision or to report drug use or drug-dealing.