Scrap metal raids: Police seize tonnes of rail cable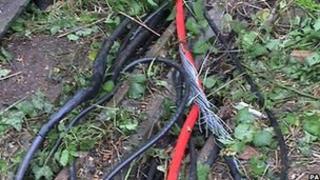 Police have seized 14 tonnes of suspected stolen railway cable and made 45 arrests after searching around 160 scrap metal yards in a single day.
The Association of Chief Police Officers (Acpo) said the haul followed visits to 400 scrap metal recyclers in England and Wales on 14 December.
The day of action aimed to tackle the "growing" crime of metal theft, thought to cost the economy £700m a year.
Scotland Yard is launching a dedicated unit to target the thieves.
The Waste and Metal Theft Taskforce is based in Bexley, south-east London, one of the boroughs most severely affected because of the high number of scrap metal yards.
'Unscrupulous'
Meanwhile, a newly formed cross-ministerial group has also met several times to discuss the problem.
Acpo said police across Britain had joined forces with a number of agencies to hit back at thieves and "unscrupulous" scrap dealers.
"Metal theft is a huge, cross-industry, problem which is not only having a massive impact on the economy, but also communities across the nation, said deputy Ch Con Paul Crowther.
"The day of action was designed to drive home the message that metal theft will not be tolerated and that all agencies will work together to tackle the issue."
Other bodies involved in combating the problem include the Environment Agency, Her Majesty's Revenue and Customs, BT and Network Rail.
British Transport Police said it considers cable theft second only to terrorism in its list of priorities.
Home Office minister Lord Henley said: "It is clear that a law dating back to the 1960s is not sufficient to deal with an increasingly organised crime.
"That is why we are looking at a range of legislative options, including ending payments in cash for scrap metal."
Some 275 separate searches of scrap metal yards in the first two weeks of December led to 15 arrests and the seizure of 16 vehicles.
Acpo said dedicated days of action would continue throughout 2012.