The reality of rough sleeping in the City of London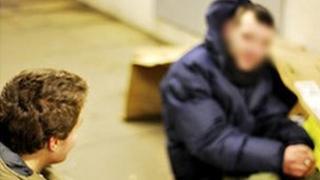 In 2008 London Mayor Boris Johnson set a target to eradicate rough sleeping in the capital by the end of 2012.
With a year to go to meet that objective, what progress has been made on the street?
On a chilly December night, BBC London joined outreach worker Tom Mulrenan, 32, from homeless charity Broadway.
The No Second Night Out (NSNO) scheme, launched in nine London boroughs in April, has meant that if outreach teams find someone new to the streets, they are given the chance to be taken to an assessment hub.
There they will be offered an alternative to sleeping out for a second night.
We took to the City of London - also known as the Square Mile - by foot to track down rough sleepers who had been reported to NSNO by police that day.
There were only two new cases on the list, but we followed a route tracing some of the more common resting spots for the City's rough sleepers, first heading to a derelict office block near Aldgate station.
Boxes and rags
Police had reported seeing a woman in her late 30s earlier that day.
We crept along a dark path running around the edge of the building until we spotted a pile of cardboard boxes and rags.
No rough sleepers were to be found, but an empty bottle of heroin substitute methadone suggested someone might have been there recently.
Another Broadway worker would check the area again later that night.
As we walked along The Minories, a man approached us asking for spare change.
"Jonas, is that you?" Tom asked.
Armed with a serious drugs problem, Jonas, 29, was rough sleeping in the Square Mile when Tom met him a year ago.
They devised a plan to get him into accommodation, "but then he disappeared", said Tom.
Jonas would not be eligible for NSNO as he claimed to be staying with a friend.
But as an Eastern European living in Britain since he was 15, he could be eligible for a hostel if he had a benefits claim in place.
Tom arranged an appointment for him to make that claim the following day.
'Withdrawal risk'
We encountered Gary and Kate, an Irish couple begging outside Tower Hill station.
With Tower Bridge to their left, and the Shard skyscraper to their right, they were overlooking one of one of the capital's most impressive vistas.
But the sites were viewed through the watery eyes of a heroin come-down.
Gary, 32, had previously been helped off the street and given support to rent a flat.
But a spell in prison for common assault led him once again to homelessness.
He has refused help but Kate, 27, would be eligible for NSNO having arrived from Ireland a week ago.
Tom spoke to her alone but she rejected help that night.
She said she wanted to be with Gary, and did not want to "risk withdrawing" from heroin she could get on the street.
But she promised to go to a nearby outreach centre the next day.
Nearby, a begging man in his 40s, told us he was "sorted", sleeping in a local hostel.
Tom said he was out begging to support his drug habit, something the NSNO cannot prevent.
Heading east, under Trinity Square Gardens' war memorial Steve, in his 40s, was in a deep sleep.
Tom called to him from over the locked gates, but there was no response.
As a heavy drug user with a history of violence, Steve "has always refused help", said Tom.
Deportation fears
A separate scheme called Rough Sleeping 205 is trying to help him.
Managed by the London Delivery Board, it intends to help the capital's most entrenched rough sleepers.
On a walkway off Monument Street we met Stanley, aged in his 30s and another long-term rough sleeper who has repeatedly refused help from NSNO.
"He's almost certainly an illegal immigrant," said Tom. "He is refusing to accept help out of fear of deportation."
Stanley was joined by, Bruno, 32, a relatively new rough sleeper.
"I was thrown out by my girlfriend," he said.
After a fair amount of persuasion, he agreed to go back to NSNO's central London assessment hub.
"I have ambition, I just need some help," he said.
Apologetic
The final area we planned to check was the back of a churchyard near Blackfriars Station, where police had reported a man sleeping rough there that day.
In a dark corner of the churchyard, under a pile of rubbish, we found 70-year-old Bill.
Originally from Edinburgh, Bill lost his job and his home and had been sleeping rough in London for a year.
He welcomed the offer of being taken to the assessment hub.
Bill was wet, dirty and cold, but most strikingly he was apologetic.
He had no possessions, but said he would come back to where we found him to "clear up" his "mess".
Tom told him that probably would not be necessary.
The night showed rough sleeping is still apparent in the Square Mile, but people who sleep rough are not always willing to accept any kind of help.
During five hours we met six rough sleepers, two of whom agreed to help from NSNO.
If eradicating rough sleeping is ever possible, NSNO and other charities still have a lot of work to do.
On Boxing Day, BBC London will talk to charities and the mayor's housing advisor Richard Blakeway about how realistic the pledge to end rough sleeping in the capital is.
The rough sleepers in this article have had their names changed, at their request, to protect their identity.