London 7/7 terror attack lessons 'not learned'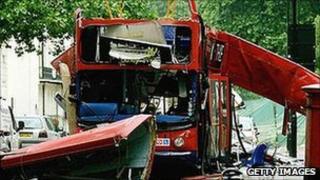 The government has not implemented recommendations made after the 7 July inquests, a victims' lawyer has warned.
The inquiry into the 2005 atrocity - which killed 52 - made nine recommendations which "may save lives" in future attacks.
But Clifford Tibber, who represented the relatives of seven people killed, said there had been "precious little" change six months after the advice.
The Home Office insisted it had made "significant improvements".
The worst single terror attack on British soil happened during morning rush hour on 7 July 2005.
Armed with homemade explosives packed into rucksacks, bombers destroyed three Tube carriages and a bus.
At the inquest, coroner Lady Justice Hallett proposed numerous changes to intelligence and emergency procedures.
These included:
More first aid equipment on London Underground trains
Hospital staff and paramedics examining how they handle major incidents
A review into funding and capabilities of the Air Ambulance
Concluding, Lady Justice Hallett warned against allowing the recommendations to "lie on a shelf for 15 years".
But Mr Tibber said: "The families were united in trying to ensure that any past failings should be remedied.
"There has been precious little evidence of any major changes and most Londoners must be wondering if the emergency services can respond any quicker than they did in 2005.
"What has happened to publicly accessible first aid kits on Underground trains, blue light status for London Underground's emergency response vehicles and public funding for the London Air Ambulance Service?"
Mr Tibber continued: "We have got the Olympics in July and you couldn't find a plaster on the Tube if you needed to.
"It's quite frightening how little appears to have changed."
John Taylor, of Billericay, Essex, whose 24-year-old daughter Carrie was killed in the Aldgate bombing, said: "I'm really disappointed.
"We don't want this to happen again and if it does happen again, Britain should be prepared for it."
Oldham-resident Graham Foulkes, whose son David, 22, died in the Edgware Road attack, added: "It is clearly not just a London issue but a national issue and I think it is a scandal.
Kits 'Not practicable'
"We are very frustrated that, more than six months after the coroner made her recommendations, we have had lots of promises but no action."
Transport for London said it was "not deemed practicable" to install first aid equipment on Tubes because of lack of space, hygiene issues and vandalism.
A spokesman said: "We have reconsidered this issue in the light of the coroner's recommendations but have found that those issues still make the provision of such kits unworkable."
A Home Office spokesman said the government had "already made significant improvements to our ability to prevent and respond to terrorist attacks".
London Ambulance Service said it had reviewed training and would take more action over the next two years.