Jailed London rioters named by Met Police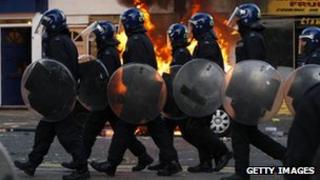 Details of 66 people jailed in connection with the summer riots in London have been published.
The Metropolitan Police has issued the names of those convicted of offences such as violent disorder, burglary and handling stolen goods.
Images of them have been published on the force's Flickr page.
Four months on from the disorder in August, the force has made 3,423 arrests and 2,179 people have been charged or summonsed.
Det Supt Robin Bhairam said: "My thanks go out to all of those members of the public who have come forward and named those involved in these sickening acts of violence.
Worst disorder
"I very much hope that this invaluable support continues so that we can carry on bringing to justice those individuals who took it upon themselves to terrorise and intimidate the people of London.
"This investigation will continue - it is a marathon not a sprint. The sentences that have been handed down by the courts reflect the seriousness of the crimes that have been committed."
Last week, images of more than 200 outstanding suspects were released and on Wednesday, 77 people were arrested following a series of co-ordinated raids in London.
Rioting began in Tottenham, north London, on 6 August, two days after the fatal shooting by police of 29-year-old Mark Duggan.
Unrest spread across London and to other cities, including Manchester, Birmingham and Bristol over the following days.
The spree of rioting and looting was the UK's worst disorder for a generation.