Deslandes' murder: family denied information on killer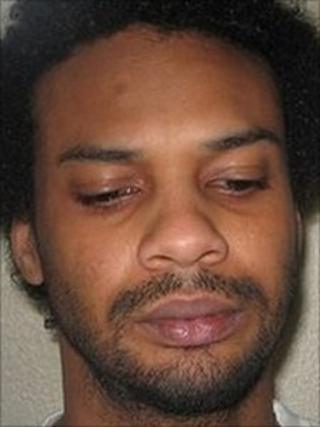 A couple have been refused the right to know if their son's killer was in the UK legally when he shot him.
Data protection laws bar Wintworth and Lurline Deslandes, from London, getting details about Saturday Hassan, 31, who murdered their son Darren.
The couple believe Hassan, formerly of Sydenham, is a foreign national, but under the legislation he must give permission for it to be confirmed.
The Home Office said such details could not be revealed to the couple's MP.
Hassan, who murdered Mr Deslandes and attempted to murder his brother Junior, has a right to privacy over his immigration status, under the Data Protection Act.
The killer was jailed for at least 37 years in November, after being convicted by a jury at the Old Bailey.
The couple wants to know Hassan's immigration status so that if he is in the UK illegally, they can ensure he is deported.
'Total nonsense'
Malcolm Wicks, MP for Croydon North, raised the matter in the House of Commons, where he described the data protection situation as "total nonsense".
He said his efforts to find out Hassan's nationality had failed, adding: "The minister replied that he could not tell me and that the only way I could find out was to seek the permission of the murderer - no doubt because of human rights.
"Is not the minister's reply, and this situation generally, total nonsense?"
Immigration Minister Damian Green said he "rather agreed", adding: "The amount of data protection that ministers are required to observe may well seem absurd, and I can reassure him that I found it absurd as well."
Hassan killed Mr Deslandes after being thrown out of the victims' family pub during a new year's party in Croydon.
Mr Deslandes' brother Junior, 27, has survived despite having three bullets in his head.
A UK Border Agency spokesman said: "Our immigration rules clearly state that a foreign national receiving a prison sentence of more than 12 months will automatically be considered for deportation."