London riots: Metropolitan Police raid 100 homes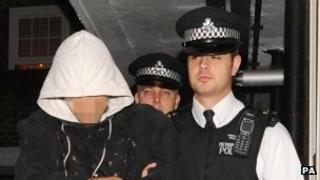 Police seeking suspected rioters have raided about 100 addresses across London.
The Metropolitan Police said more than 80 arrests had been made by officers from the force.
Four months on from the disorder, more than 3,400 people have been arrested and about two-thirds of them charged or summoned to court.
Officers began moving on homes in boroughs across the capital from dawn on Wednesday.
Police said it was the largest operation so far against people suspected of taking part in the August riots.
Det Supt Robin Bhairam said: "Today's activity is an indication that four months on from the incidents seen across London we remain absolutely committed to identifying and arresting those responsible for the disorder.
"Searches like those carried out today are happening on a daily basis and my message to those who were involved in criminality is that you will not get away with it.
"We have a huge team of dedicated officers working on this investigation and we will find you."
He added: "We are determined to bring those who committed these outrageous acts of criminality to justice and we will continue to make arrests."
The Met also thanked the public response to a recent release of 200 images of suspected rioters.
The spree of rioting and looting seen in August was the UK's worst disorder for a generation.