Drivers 'not working balloted' for Boxing Day Tube strike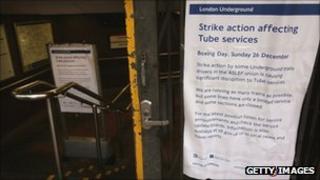 Aslef union officials created a "false mandate" by balloting Tube drivers for a strike on Boxing Day, the High Court has heard.
Lawyers for London Underground (LU) told the court drivers who were not scheduled to work on 26 December had cast their votes in the strike ballot.
LU is seeking an interim injunction to stop the 24-hour strike.
Aslef wants triple pay and a day off in lieu for drivers for working on the bank holiday.
Its lawyer said LU's argument about the balloting was "misconceived".
The union plans to strike again on 16 January and on s on 3 and 13 February if the row is not resolved.
'Long-running dispute'
In a written argument, Bruce Carr QC, representing LU, told Mr Justice Eder: "In short, [Aslef] included in the balloting constituency a significant majority of its members who could not in due course be called on to take strike action on 26 December 2011 as they were not rostered to work on that day."
He said Aslef had "secured a false mandate by extending the right to vote to around 75% of members, who it could not reasonably have believed would be called on to take part in the industrial action."
Mr Carr said LU was seeking an injunction because damages would "plainly not be an adequate remedy" for LU.
"There is, in addition, the consequence of substantial inconvenience to the travelling public and to the shops and businesses which depend on a Boxing Day service being provided," he added.
Oliver Segal QC, for Aslef, argued that the injunction should be refused and said the strike had been called over an industrial dispute.
Mr Segal said: "The dispute is long-running and similar industrial action was taken last year.
"The present industrial action was called following a ballot of Aslef's train and instructor operator members working for LU, around half of whom returned ballot papers, of whom 92% voted in favour of the strike action called for."
LU's arguments against the strike ballot was "novel" but "misconceived", Mr Segal said.
He said: "London Underground confuses 'strike' [in the narrow sense of not attending for a rostered shift] with 'taking part in a strike' in the wider sense as understood both industrially and by the courts.
Mr Segal added the concept was "not limited only to employees who are 'on strike', in the sense that they are rostered to work at the relevant time and do not attend for work, but includes all employees who associate themselves with the strike with a view to furthering its aims".
The hearing has been adjourned and the judge is expected to give his decision on Thursday.
Matches in doubt
Earlier a spokesman for Boris Johnson's office said the mayor was in "total support of the legal challenge".
Two of the traditional Boxing Day football matches in London are presently in doubt because of the strike.
Arsenal are due to decide whether to delay their match with Wolves until 27 December.
A club spokesman told BBC Sport: "Arsenal are considering postponement to 27 December as one of the options."
Chelsea said it was monitoring the situation ahead of the Boxing Day derby against Fulham.