London 2012 Olympics: Mayor's office books 506 tickets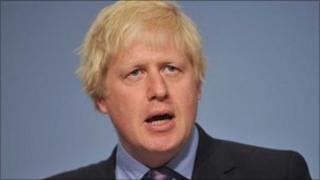 The office of London Mayor Boris Johnson has reserved 506 Olympic tickets worth nearly £300,000.
The allocation was separate from the 6.6 million tickets on offer to the public, said the mayor's office.
The tickets would be funded through private sector payments, said a spokesman, adding that taxpayers' money would not be used.
They will go to individuals deemed able to bring business to London and drive its economic development, he said.
Earlier this year, the government confirmed it had bought 9,000 tickets for the Games.
It said 3,000 people who had helped in staging 2012 would pay face value for tickets while others would go to dignitaries and VIPs as part of efforts to "showcase" the UK.
'Proud to be British'
The 506 tickets would be a part of mayoral programme aimed at driving economic development and investment in London, said the spokesman.
"The Mayor has made it absolutely clear that tickets will not be financed by the taxpayer and that costs will be covered by resources from the private sector," he told the BBC.
He added that 266 seats had been reserved at the opening ceremony and athletics finals for victims and relatives of those killed in the London bombings in July 2005.
In June, Mr Johnson said he had failed to get tickets for his family through the public ballot.
Entering the ballot and not getting the tickets made him "proud to be British", he said, joking that no other country in the world would reject the mayor of the host city's application for tickets.
Some 2.2 million of the 8.8 million tickets available for the Games were not on sale to the public but were rather being split between sponsors, the International Olympic Committee, guests and hospitality partners, as well as National Olympic Committees.
London 2012 is looking to make £500m from ticket sales as part of a bid to raise £2bn through private means.