Rambert Dance Company's archive preserved by lottery funding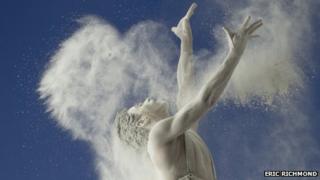 One of the UK's oldest dance companies has been awarded £360,000 to preserve and display a century's worth of costumes and film archive.
The Heritage Lottery Fund (HLF) grant means Rambert Dance Company can display its historical collection when it re-locates to London's South Bank in 2013.
HLF head Sue Bowers said the collection was of "national and international importance".
The dance company was founded in 1926 by Polish choreographer Marie Rambert.
The company is currently based in Chiswick, but does not have adequate space to store or provide access to costumes, audio and film collections and archive material.
Its new base by the River Thames will be purpose-built and the lottery funding means a new archive space will be used to display the collections.
More than 300 costumes, designed by the likes of Roland Mouret, John Galliano, milliner Stephen Jones and Katherine Hamnett, will form part of the archive.
'Birth of British ballet'
The funding also means Rambert can offer an education programme for fashion students and theatre performers as well as the wider community.
Rambert chief executive Nadia Stern said: "This grant will transform access to Rambert's extensive archive which documents the birth of British ballet.
"This is a fascinating collection of national significance dating back to the late 19th Century, recording the development of dance, the most ephemeral of art forms."
The archive was developed following the company's 50th anniversary in 1976, and formally established in 1982 when Marie Rambert donated her own personal collection.
More than 600 boxes of documents and film and audio footage will also be preserved. The VHS collection, which is currently at risk, will be digitised with many items available online.