Occupy protesters in UBS bank building win legal victory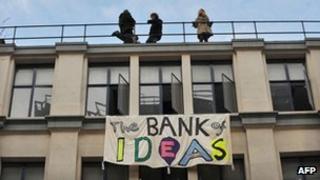 Protesters occupying an empty office complex in the City of London owned by the bank UBS can stay until at least January, after a legal victory.
Campaigners have been staying in the building for weeks.
A judge has now said demonstrators can stay over the festive period until a hearing in January.
They hope the Court of Appeal will overturn a High Court ruling which refused to overturn a possession order granted to UBS.
'Christmas dinner menu'
Lord Justice Lloyd gave protesters permission to appeal but did not fix a date for the hearing.
Protesters applauded the judge as he left court.
After the hearing, a protesters' spokesman said: "Great news. Every day is a victory.
"We hadn't been confident enough to plan our Christmas Dinner menu - but we'll start now."
A UBS spokeswoman said: "We take note of the decision of the court today which we are considering with our legal advisers."