Boxing Day Tube strike: Legal challenge begins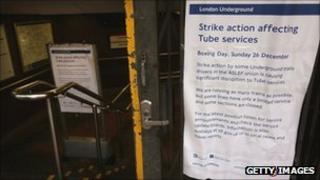 London Underground has begun a legal challenge to prevent a strike by drivers on Boxing Day.
The union Aslef is demanding triple pay and a day off in lieu for working on 26 December - a bank holiday.
Talks between the union and London Underground (LU) on Monday to avert the action broke down without agreement.
LU has said only 42% of Aslef members voted to strike in the ballot and is challenging its validity. Aslef said 92% voted in favour.
Staff are set to walk out for 24 hours on 26 December, 16 January, 3 and 13 February. Services were severely disrupted last year when drivers walked out on Boxing Day.
The union said it wanted "adequate compensation" for working on 26 December and it wanted Tube drivers to be able to volunteer to work on such an "unsociable" day.
'Increase ill-feeling'
A statement from the union said: "I am sure Londoners would prefer LU to be sitting down with the union hammering out a solution to this dispute rather than wasting time briefing solicitors and wasting money by pouring it into the pockets of barristers.
"We don't expect the legal challenge to be successful and all it will do is increase ill-feeling which will make an agreement more difficult to secure."
He added: "The whole dispute has been about seeking equitable quality time off for our members but recognising those who do operate the service may need to be incentivised."
An LU spokesman said an agreement in 1992 specified drivers would earn about £44,500, work a 35-hour week and have 43 days' leave.
As part of the agreement, Tube drivers have to work some public holidays, including Boxing Day.
LU said it had reduced the number of drivers needed to work on Boxing Day after Aslef raised the issue in 2010 and only a quarter of the 3,500 were needed on the day.
LU's Howard Collins said: "This threat of strike action is disgraceful, and Londoners will share our disbelief at these outrageous claims by Aslef's leadership for even more money to work on a day for which their members are already being paid."
The High Court hearing into the validity of the strike ballot will be held later this week.