Where art and commerce meets in Dalston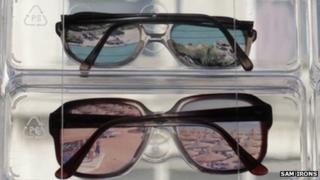 It is not often that art and commerce go hand in hand, but a collaboration between shopkeepers and artists in Dalston is doing its bit to boost the high street.
Eight artists and designers have created bespoke installations for eight shops on Kingsland Road, Kingsland High Street and Stoke Newington Road for the Exchange Series project, which is running over Christmas and New Year.
One of the brains behind "Exchange Series", Kasia Maciejowska, said the project aimed to bring two very different sides of Dalston together.
Ms Maciejowska, who helps run Happen Projects, said: "Dalston is a very artistic area so we asked 100 shops in the street to get involved and we are working with eight.
"We wanted to match the artists with the shops. It involved a lot of collaboration between both parties.
"The most satisfying aspect of the project is how friendly the shopkeepers and the artists have become and we've had a good, positive response from the public.
"Hackney Council has also been very supportive in helping to fund the project.
"They turned our funding application around within a week which shows how keen they are to support projects like these that help the high street."
Eye-catching bust
Ms Maciejowska said that as Dalston was a multi-cultural community, traditional Christmas lighting was not necessarily a draw for shoppers.
Artist Aurelie Dellasanta teamed up with Hayri Ergisi, who owns Launderette on Stoke Newington Road, to create an eye-catching bust made of laundry detergent and add gold leaf to washing machines.
Ms Dellasanta, previously a jewellery designer, said: "The experience of working with Launderette was rewarding in different ways.
"I have always been interested in working in this sort of service or utility space which seems to me mechanized and 'empty', so I was really keen to realise this installation.
"The elements that I have designed are about cleanliness and interactivity, which are both intrinsic to what the launderette is about."
For his part, Mr Ergisi was initially sceptical about ideas like gold leafing the washing machines, because of the impracticality for users.
But he said he became more amenable as the process went on and was particularly keen once the laundry powder sculpture was lit in the window with an LED.
'State of fantasy'
Marvin Quallo, who co-owns Eyes Only opticians on Kingsland High Street with Wayne Ramsauer, is full of praise for what artist Sarah Cockings achieved with his shop front.
She hung pairs of sunglasses in the shop window with paradise beaches and snowy scenes etched on acetates within each glasses lens.
Mr Quallo said: "Sarah was very easy to work with, it was no problem - if we didn't agree with something we'd say so and she'd work something out.
"What she did looks really good and it does attract people.
"Lots of people stop and look and ask about it and I give them a leaflet and just explain that it's a display between a designer and the shop."
Ms Cockings said: "An optician's window is not something you spend time with your nose pressed against in a state of fantasy, it is a service, a necessity.
"It was so nice to work in this space for that reason, to let people peer through 150 illuminated lenses into the shop space behind, just adding a layer rather than an obstruction."
Other stores that have taken part include Afrique Fabrics, Dalston Stationers, Diamond Car Service, Afro World, William Gee Ltd haberdashers and Arthur's Cafe, which has been a fixture on Kingsland Road since 1948.
Exchange Series runs until 12 January.