New London Routemaster bus runs out of fuel on M1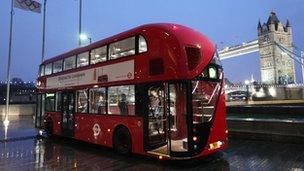 The new prototype London Routemaster bus ran out of fuel on a motorway, just days after being formally unveiled.
The New Bus for London had to pull over on Monday after warning lights came on.
The bus, which runs on a hybrid diesel-electric motor, was not refuelled before being driven from London to Millbrook Testing Ground, Bedfordshire.
Transport for London (TfL) said the bus recharged its battery using energy from its brakes, but on long journeys had to run on diesel.
The prototype bus was unveiled by London Mayor Boris Johnson on Friday and is undergoing testing in the capital.
It had been displayed in London over the weekend after the Trafalgar Square unveiling.
"The bus is designed for stop-start driving, which enables the battery to be recharged automatically," a TfL spokesman said.
"However when the bus undertakes long, non-stopping motorway journeys, such as its journey to Bedfordshire this morning, it can lose charge and the driver is briefed to pull to the side of the road to allow the battery to recharge.
"After the battery had re-charged the driver was unable to re-start the engine.
"It was later established that the bus had run out of diesel.
"Once the bus was refuelled it carried on its journey. We will be speaking with the operator to ensure that this does not happen again."
TfL claims the new bus will be the most environmentally friendly vehicle of its kind once it enters service. Eight of them will come into service in 2012.
Related Internet Links
The BBC is not responsible for the content of external sites.