London 2012: Olympic rings unveiled at Channel Tunnel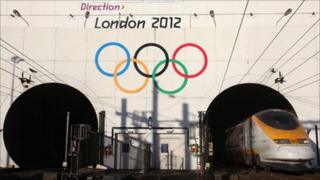 A giant set of Olympic rings has been unveiled at the entrance to the Channel Tunnel in France.
The rings - which are 9.4m (31ft) wide and 4.6m (15ft) high - are fixed to the wall of the tunnel in Coquelles, near Calais, in northern France.
They were were built in Lille and assembled at the tunnel entrance over two nights by five rock climbers.
Their unveiling was at a special event marking "20/12 Day" on 20 December.
Each ring is fixed to the wall by 10 anchor points to hold it in place against the force generated by trains passing at up to 160km/h (99mph).
Showing unity
In March, a giant set of Olympic rings was revealed at St Pancras International station in central London.
The station, a Eurostar terminus since 2007, forms a key part of London 2012 transport plans.
Organisers say high-speed Javelin trains will take visitors from there to the Olympic Park in seven minutes during the Games.
The 20m (66ft)-wide aluminium structure is suspended in the station's vast main space.
It was the first of several sets of rings that will appear on key landmarks around the city in the run up to the Games in July.
The logo of five interlinking Olympic rings was designed by the founder of the modern Olympics, Pierre de Coubertin, and has been a symbol of the Games since 1914.
Coloured blue, yellow, black, green and red, the rings represent five continents and are linked to show unity between the world's athletes in the spirit of the Olympic movement.
The manufacturing and placement of the rings has been privately financed by Eurotunnel, who have worked closely with the Comité National Olympique et Sportif Français (the French National Olympic Committee).
Seb Coe, chair of London 2012, said: "The Olympic Rings are an iconic symbol, inspiring athletes and uniting people around the world.
"To athletes they represent the culmination of thousands of hours of training and reaching the highest level in sport. To visitors travelling from Europe they will excite and inspire them about the Olympic Games taking place in London, and demonstrate that we are ready to welcome the world in 2012."
The Mayor of London, Boris Johnson, said: "As the starting line for 2012 Olympic and Paralympic Games fast approaches we want to say loud and clear to all our European neighbours that London is the only place to be next summer."