Hammersmith and Fulham withdraws town hall plan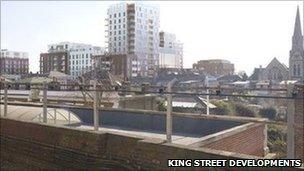 A West London authority has withdrawn its plans to redevelop its town hall after the Mayor of London's planning department said it conflicted with policies on views and conservation.
Hammersmith and Fulham referred its plan to redevelop the King Street area, building almost 300 flats, on Wednesday.
Campaigners had argued that the development would come at the expense of affordable housing.
The plan may now be revised.
The proposal to build 290 flats, a supermarket and a square was approved by Hammersmith and Fulham Council.
It was referred to City Hall because it had the potential to significantly impact the Mayor of London's London Plan, which sets out policy on housing, planning, environment and the landscape of the capital.
Hammersmith and Fulham Council had said that demolishing its "ugly and costly town hall extension" would save £18m a year and regenerate "a run-down corner of the borough".
The proposed public-private partnership project would not cost taxpayers anything, it added.
But a spokesman for the Mayor of London said that his planning officers felt the scheme had too many conflicts with the London Plan, including the impact the highest 15-storey block could have on people's views and the two conservation areas it affects.
Protest group Save Our Skyline demonstrated with actress Vanessa Redgrave outside City Hall on Wednesday.
The group, which represents residents and 20 local groups, said more than 8,500 people had signed petitions opposing the plan, which would have meant affordable housing and buildings owned by Pocklington Trust, a charity for visually impaired people, being demolished.
A spokesman for Hammersmith and Fulham Council said that the council understood there were concerns and would work to see if there was "scope" to reduce the height of the proposed buildings.
Technically, the planning application remains "live", according to City Hall. It will need to be considered by the mayor at a later date should the council re-refer the scheme for consideration.
Related Internet Links
The BBC is not responsible for the content of external sites.