Plumbing blamed for pollution in London's Lea Valley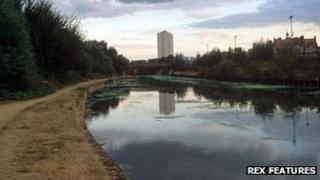 Pollution, partly caused by bad bathroom plumbing, has damaged parts of the Lea Valley in London, British Waterways has said.
Waterway charity Thames21 said high levels of chemicals and raw sewage in the water had "devastated" some areas.
It said a study indicated that chemicals were entering waterways from people's homes.
But London's overall water quality is improving, according to British Waterways.
'An outcry'
The Thames21 report concluded the majority of the six rivers running into the River Lea had "severe problems with water quality".
The tests were carried out in November in Hackney, Haringey, Tower Hamlets, Waltham Forest and Epping Forest.
The River Lea and the streams that flow into it form London's second largest river system.
The tests showed the waterways in Enfield, Waltham Forest and Haringey had particularly high levels of pollution and low oxygen levels, which meant fish could not survive.
Theo Thomas, from Thames21, said: "If someone walked into a wood with a chainsaw and cut down the trees, there would rightly be an outcry. But the equivalent is happening every day in the rivers of East London."
Leela O'Dea, environmental manager for London and the Southeast for British Waterways, said that one problem was that people having extensions built on their houses were having their bathrooms plumbed in in the wrong way.
This meant that sewage was being taken away in surface water draining instead of foul water drainage.
Thames Water carries out work to track down households with the wrong plumbing but the process is slow and the problem wide-reaching, Ms O'Dea said.
She pointed to otters returning to waterways near the M25 this year as evidence that the situation was improving, however.