New Routemaster bus unveiled in London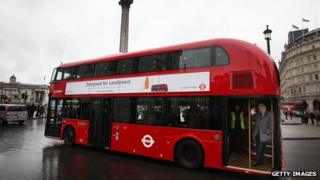 The new Routemaster bus, with an open hop-on hop-off platform at the rear, has been unveiled in London.
Eight of the new buses will run on route 38, between Victoria Station and Hackney, from 20 February next year.
The prototype was built in Northern Ireland in two years after Mayor Boris Johnson declared it in his manifesto. Labour party said the buses cost £1.3m each and were a "shiny vanity project".
The bus was driven from City Hall to Trafalgar Square for the unveiling.
Routemasters were withdrawn from service in December 2005, but some still run on tourist routes.
Children from Kew Riverside Primary School, that won a prize in the original design competition, went to Trafalgar Square to see the bus arrive there.