London bus workers 'could strike' for Olympics pay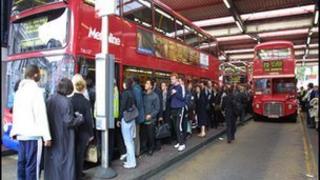 Bus workers in London have said they want a £500 payment for being on duty during next year's Olympic Games.
Trade union, Unite, has written to bus operators on behalf of up to 28,000 employees raising the threat of industrial action if a deal is not agreed.
It said £500 would be in line with what other London transport staff will be receiving for working during the Games.
Transport for London has called for a resolution with minimal disruption.
'World-beaters'
It comes a day after Tube drivers announced that they will hold 24-hour strikes on four days, including Boxing Day.
They want triple pay and a day off in lieu for working on the bank holiday.
Unite has argued that an extra 800,000 passengers are expected to travel on buses during the Olympics, generating "significant" extra revenue.
Its regional secretary, Peter Kavanagh, said it was "only right" that bus workers were rewarded for their "extra contribution" during the Olympics.
He said: "For too long Transport for London (TfL), the mayor and bus operators have treated London bus workers as second class citizens, while saying they are the best in the world.
"Our members are saying enough is enough. If you say they're the best treat them like they are."
Two weeks ago London Overground, which manages London's suburban rail network, agreed to pay its staff an extra 25% for working during the Olympics and Paralympics.
Its deal with the National Union of Rail, Maritime and Transport Workers (RMT) means staff who work during the Games will see a minimum pay rise of £650 in 2012.
Tube train drivers are to receive a payment of at least £500 for working during next year's London Olympic Games after lobbying by union Aslef.
Ken Davidson, Head of Bus Operations at TfL, said:"London bus drivers are employed by private bus companies and their pay and conditions are set by those companies.
"We urge Unite and bus operators to work together to find a satisfactory solution to avoid unnecessary disruption to passengers and to keep London moving during the London 2012 Games."