Judge visits Occupy London camp at St Paul's Cathedral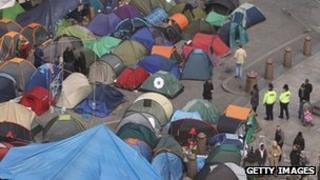 A four-day hearing into the eviction of protesters camped outside St Paul's Cathedral in London has begun, with the presiding judge visiting the camp.
The contested possessions case is being heard after the Occupy London protest group ignored an order to clear its tents from the public highway.
The City of London Corporation (CLC) has said "defecation" and "drugs" are among the problems at the camp.
Judge Keith Lindblom visited the camp at 17:00 GMT.
The hearing has now been adjourned until Tuesday.
Lawyer David Forsdick told the court on Monday that the camp had attracted "vulnerable people".
'School trips cancelled'
Occupy protesters, who are campaigning against corporate greed, said many of the claims were without basis.
CLC, which is in charge of the public highway where some of the tents are positioned, issued notices on 17 November ordering the camp to be dismantled and removed.
Legal documents filed by the corporation said half the school parties due to visit the landmark had cancelled their trips since the campaigners moved in and that local businesses' takings had fallen by up to 35%.
Counsel David Forsdick said action had been brought to "protect the rights and freedoms of others".
"The City is not bringing these claims to protect the banks, nor is it bringing them to prevent peaceable protest against the financial sector. Nor is it bringing these claims to stifle freedom of speech.
"It is bringing these claims solely to remove the semi-permanent protest camp because, after very careful consideration, it has concluded it is necessary to do so.
"It is a pressing social need in order to protect the rights and freedoms of others."
'Changed political discussion'
Occupy London Stock Exchange (OLSX) said civic authorities had not "engaged in a transparent dialogue" with activists.
Supporter Laura Taylor said the camp had "changed the political discussion in this country".
She added: "Inequality, executive pay and tax evasion are now firmly on the political agenda."
Protesters moved into St Paul's Churchyard on 15 October, Finsbury Square on 22 October and an empty UBS bank building in Hackney on 18 November.
The protesters in the disused bank office can stay until at least January, after a judge on Monday agreed an appeal hearing could take place against a possession order granted to UBS.
Occupy London's demonstration is part of an international movement against corporate greed, which achieved an international profile following protests on New York's Wall Street.