Eyewitnesses tell how Sonia Burgess was pushed under train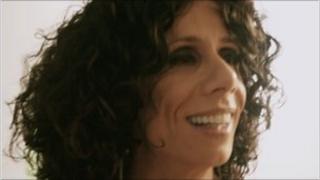 A man has told a court how he grappled a transgender person to the floor after seeing her push a leading human rights lawyer under a Tube train.
Sonia Burgess, 63, died during the rush hour at King's Cross in October 2010.
Senthooran Kanagasingham - who is also known as Nina - denies murder but admits manslaughter on the basis of diminished responsibility.
Darren Clare, from Bristol, said he was going home after a business trip with a colleague when he saw the incident.
'I'm guilty'
In a statement to police he said he believed both people were women and he said he saw one push the other in front of the train with "hideously perfect timing".
Mr Clare grappled the assailant to the ground and shouted: "What have you done? What have you done?"
The court was told that Mr Kanasingham, 35, replied: "I'm guilty, I'm guilty. I surrender."
Several eyewitnesses described the assailant as looking "calm", "blank" and "empty", the Old Bailey heard.
Pooya Ghoddousi told police the victim did not even have time to scream and he said of the assailant: "Her face had no feeling... there was no trace of a spirit or soul in her face."
The victim was born David Burgess, was at one time married and had three children, but wished to be known as Sonia and dressed as a woman.
The court heard she had told friends she was "too old" to undergo gender reassignment surgery.
Mr Kanagasingham, who was at the time living as Nina and had been undergoing sex change therapy, now wishes to be known as a male and appeared in court dressed in men's clothes and with a shaven head.
Ms Burgess had become friends with Mr Kanagasingham, a Sri Lankan Tamil who had claimed asylum and was eventually given leave to stay in Britain.
On 25 October 2010 she accompanied Mr Kanagasingham to a GP, Dr Joothica Ranade, in Cricklewood, north London.
He asked for a repeat prescription for amitriptyline, an anti-depressant.
The jury heard Dr Ranade told police Mr Kanasingham's friend interrupted and said she was very worried about the level of stress "Nina" was going through and said his anxiety was exacerbated because he was waiting for an appointment at a gender identity clinic.
'No animosity'
Dr Ranade told the police: "Nina appeared to disapprove of her friend's opinion of her. She had a disapproving look and said 'no'."
But he said there was no sign of animosity between the two and they left with the prescription.
Ms Burgess was pushed under the train a short while later.
Mr Kanagasingham claims he was suffering from paranoid schizophrenia at the time.
The Crown has refused to accept the plea of guilty to manslaughter and is seeking to prove Mr Kanagasingham murdered Ms Burgess.
Opening the case on Monday, prosecutor Brian Altman QC, said "the very deliberate murder of Sonia Burgess" was "born of anger and malice".
The trial continues.