Ken Livingstone pledges 'London Living Rent' system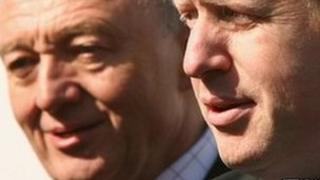 Ken Livingstone has pledged to help people renting in the private sector in London if he is elected as mayor.
The Labour candidate said no-one should pay more than a third of their wage on rent and a London Living Rent would be a fairer system.
A spokesperson for the current mayor Boris Johnson said rent controls were counterproductive.
The Conservative candidate said if re-elected, his revised housing strategy would create 55,000 affordable homes.
Mr Livingstone, the previous Mayor of London, said the cost of private rents was an issue affecting both low and middle income earners, because the average rent was now £1,000 per month.
'No power'
Speaking at the London Policy Conference organised by think tanks IPPR and The Centre for London, he said renting was the only option for many given that the average first-time buyer property now cost more than £257,000.
He added that a London Living Rent, similar to the London Living Wage, would establish a fairer system.
But a spokesperson for Mr Johnson said: "Whatever the ideological appeal, the mayor does not have the power to introduce them and even if he did, they would be devastating for the construction industry.
"It would result in fewer homes being built and lead landlords to invest less in their stock."
The spokesperson added that the mayor did not have statutory powers or government funding to establish a lettings agency.
During a speech to the National Housing Federation's London Development Conference, Mr Johnson revealed his revised plans to boost the capital's housing supply by 55,000 by 2015.
He said plans for a new London Rental Standard would see 100,000 private landlords accredited by 2016 and added that he would upgrade 40,000 council homes to meet the Decent Homes standard which would be paid for by a £3bn government fund.
Liberal Democrat candidate Brian Paddick said: "The record of building new homes on land already owned by the public sector in London has been far too slow."
He added that if elected, he would develop a home-building programme for 250,000 people, with a new London Housing Company to match public land with private investment.