London 2012: Johnson rejects Olympics gridlock claims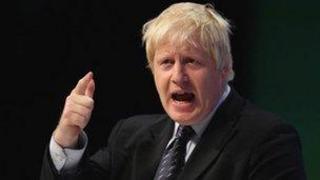 Warnings that the Olympics will bring transport chaos are like a Millennium Bug that will "never materialise", London's mayor has said.
Boris Johnson urged Londoners to ignore "gloomadon-poppers who continue to have their doubts about the Games".
Amid criticism over the cost of the Games, he vowed the overall stimulus to the UK economy would be worth billions.
He said it was "complete and utter nonsense" that London would be gridlocked next summer.
Mr Johnson told delegates at the London Policy Conference at the Southbank Centre: "I genuinely believe that when the Games are under way, we will look back at the anxieties as a kind of Millennium Bug that never materialised because most people travelling in most parts of London will not even notice that the route network exists.
"I believe there is still plenty of time for London business to prepare, plan and profit from the Games."