Cutty Sark in Greenwich has restored masts raised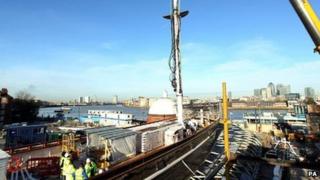 The masts on the Cutty Sark are being raised for the first time since the fire which gutted the famous ship in south-east London in 2007.
A crane has put the foremast in place on the 19th Century tea clipper in Greenwich, while two other masts are due to be added over the weekend.
After several delays in repairing the vessel, it is due to be officially reopened by the Queen in late April.
The wooden planks from its hull are among the features to be restored.
An industrial vacuum cleaner which had been switched on for two days was responsible for the blaze, which caused damage put at £10m.
Conservation work was taking place on the ship at the time and many items - including the masts and saloon - had already been removed into storage.
The ship's director, Richard Doughty, said it was a "thrilling" day for "an extraordinary survivor".
"For people coming to Greenwich from this weekend onwards, there will be a real sense that the Cutty Sark has arrived back in the town, because the masts will be back here.
"That's what people have missed."