Race girl Shannon Powell 'died after ambulance delay'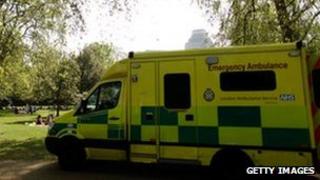 A girl who collapsed during a cross-country race in London died because of a "significant" delay in getting her to hospital, a coroner has ruled.
Shannon Powell, 14, was competing in Trent Park, north London, on January 8, when she had a violent fit.
North London Coroner's Court heard an ambulance was delayed by 30 minutes as a park gate was locked. Race organisers had thought ambulance crew had keys.
London Ambulance Service said it would consider the coroner's comments.
A post-mortem examination found Shannon had a rare heart disorder called arrhythmogenic right ventricular cardiomyopathy.
Shannon, from Northolt in west London, was taken to Chase Farm hospital in Enfield, where she died.
'Little or no thought'
The court heard that the ambulance arrived at 12.06 GMT and then spent 30 minutes trying to get into the park as the gate and height restriction barrier were in place and locked.
The crew were able to reach Shannon when a passer-by unlocked the gate.
Coroner Andrew Walker said although first aid for the event had been considered, "little or no thought" was given to what would happen if an ambulance was needed and that instructions to marshals were inadequate.
He added there was a mistaken belief that all London Ambulance Service vehicles had keys to unlock the gates.
Recording a narrative verdict, Mr Walker said Shannon's death was contributed to by neglect.
In court Shannon's father Wayne tried to read a statement. But he became too distressed, so a court clerk took over.
The statement said the family had been "yearning for the truth" and had found it hard to understand why there was a delay.
The statement added that her death had "devastated the family and the community".
Speaking after the inquest, a London Ambulance Service spokesman said ambulance staff were at the park within nine minutes of receiving the 999 call. However, the crew were forced to leave the ambulance and carry equipment across the park to Shannon.
He said: "Sadly, on the way to the ambulance, Shannon stopped breathing. Our staff made extensive efforts to resuscitate Shannon at the scene and on the way to hospital."
He added that the service would now "carefully consider" the comments and any recommendations made by the coroner.