Judge criticised for quashing swearing conviction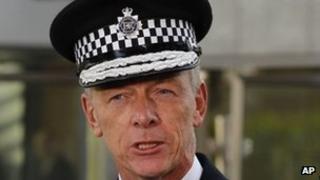 A Tory MP has branded a senior judge "rather ridiculous" after he quashed a conviction of a man from London for swearing at police officers.
Mr Justice Bean overturned a public order conviction of Denzel Cassius Harvey, 20, from Hackney, who had repeatedly sworn at police officers.
Shipley MP Philip Davies said swearing at officers should be punished.
But Mr Justice Bean has said officers are so regularly sworn at that it is unlikely to cause them distress.
Metropolitan Police Commissioner Bernard Hogan-Howe has said he was "deeply disappointed" by the ruling.
'Liable to be arrested'
Speaking in the House of Commons, Mr Davies agreed with Mr Hogan-Howe that people who used expletives at officers should be punished, adding that "the rather ridiculous Mr Justice Bean has recently quashed the conviction for somebody who swore at a police officer, saying that was the kind of thing they should expect.
"Given the widespread concern there is about the lack of respect there is in society, surely people shouldn't be able to swear at police officers without punishment."
Responding to questions on future Commons business, Leader of the House, Sir George Young, said: "Having been on the police parliamentary scheme, I do understand the frustration that policemen experience when they are subject to abuse.
"My recollection is that it is not an offence, as such, to swear at a policeman but if after you have been warned you carry on you are liable to be arrested."
He told Mr Davies he would get an "authoritative" response from Lord Chancellor and Justice Secretary Ken Clarke.
Mr Harvey was convicted and fined £50 at Thames Youth Court in March last year for a public order offence of repeatedly swearing at two police officers in Bradstock Road, Hackney, when he was searched for cannabis.
Speaking at the High Court when he quashed the conviction, Mr Justice Bean said officers were so regularly on the receiving end of a "rather commonplace" expletive that it was unlikely to cause them "harassment, alarm or distress".