England riots: Twitter 'did not incite rioting'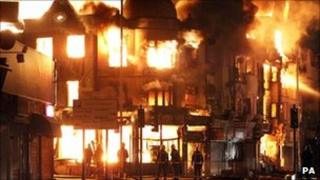 Twitter was a force for good during the summer riots, a study has found after analysing millions of messages posted.
The social networking website helped to organise clean-up operations after rioting across London and other English cities, the research showed.
Riots broke out in Tottenham, north London, on 6 August and spread to other English cities including Birmingham, Liverpool, Nottingham and Manchester.
The study was funded by the Joint Information Systems Committee (JISC).
The JISC is an education and research body paid for by higher education funding councils.
The committee included experts from a range of disciplines from the universities of Manchester, Leicester, St Andrews and Wolverhampton, and University College London.
Rioting in Tottenham began two days after the fatal shooting by police of 29-year-old Mark Duggan.
Unrest quickly spread to other parts of the capital and other English cities.
'Valuable tool'
The study looked at 2.4 million tweets sent during the disturbances and found "no evidence" to back calls that Twitter should be closed down for inciting unrest.
Prof Rob Procter from the University of Manchester, who led the team, said: "In August this year social unrest spilled over on to the streets of English cities and the summer riots were the largest public disorder events in recent history.
"Politicians and commentators were quick to claim that social media played an important role in inciting and organising riots, calling for sites such as Twitter to be closed should events of this nature happen again.
"But our study found no evidence of significance in the available data that would justify such a course of action in respect to Twitter.
"In contrast, we do find strong evidence that Twitter was a valuable tool for mobilising support for the post-riot clean-up and for organising specific clean-up activities," he added.
Researchers analysed the millions of tweets generated during and after the riots by using experts in cloud computing from the University of St Andrews.
Cloud computing allows large-scale computing facilities to be accessed and shared by multiple users over the internet.
For this study, researchers set up dozens of computers to analyse the millions of messages posted during and after the riots.
Dr Alex Voss, from the school of computer science at St Andrews, said without using cloud computing the analysis would have been "practically impossible".