Dying BBC producer calls for assisted suicide law change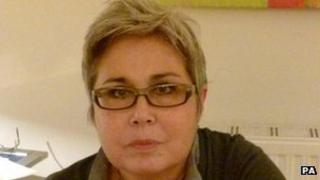 A producer who travelled to Switzerland to take her own life with the help of others has accused politicians of "cowardice" over suicide laws.
Geraldine McClelland, of White City, west London, travelled to the Dignitas facility to end her life on Wednesday.
Ms McClelland, 61, who produced Watchdog and Crimewatch for the BBC, was dying of lung and liver cancer.
In a letter published hours after her death she urged politicians to legalise assisted suicide.
Ms McClelland said in the letter she was "angry that because of the cowardice of our politicians I can't die in the country I was born in, in my own home".
Dying wish
She continued: "I would like to be able to choose to take medication to end my life if my suffering becomes unbearable for me, at home, with my family and friends around me.
"But the law in this country prevents me from doing so."
Ms McClelland said her dying wish was for people to talk about her death.
Her letter was released, in accordance with her wishes, by the campaign group Dignity in Dying, which wants a change to the law.
The letter concluded: "I believe that as part of my end-of-life care, which has otherwise been good, I should have been allowed to choose not to endure the last weeks of my life, and I believe you should have that choice when you are dying, too.
"I don't believe that my brother and sister should have to break the law so that they can be with me when I die.
"Your loved ones should not be in that position either."
Crimewatch presenter Nick Ross, who worked with Ms McClelland, backed her call.
He said: "Like Gerry, I take it to be self-evident that people facing imminent death should be allowed to manage the means and time of their departure.
'No adequate safeguards'
"It is legal when able-bodied but not when someone is so ill they need assistance.
"Gerry had to abandon her home and be driven across Europe to end her life in a light commercial estate in an impersonal Swiss suburb."
But Baroness Finlay, who has spoken out against assisted suicide, criticised calls for a change in the law.
She said: "There are no safeguards that are adequate to protect the vulnerable, which is why Parliament maintains a prohibition on one person bringing about the death of another.
"Sadly, campaigners suggest that the way to die with dignity is to seek assisted suicide, deterring some people from getting the support they can have to live well and die comfortably at home."
And a spokesman for Care Not Killing said: "The very last thing we need at a time of economic recession, shrinking health budgets and failures in the care system is a media celebrity presenting suicide as a solution for terminal cancer.
"British parliamentarians have repeatedly debated these issues and have three times in the last five years rejected the legalisation of assisted suicide on grounds of public safety.
"Our priority should be to resist any further weakening of the law and to make the very best palliative care more widely available so patients can die as comfortably as possible."
'Integrity and belief'
Ms McClelland began her career in Newcastle before rising to become deputy editor at Watchdog.
Improvements in consumer safety instigated as a result of her films include the introduction of mandatory HIB vaccines for meningitis for babies and car safety seats for children.
She went on to edit Crimewatch and invented the series Computers Don't Bite.
Adrian Chiles, who was a presenter of the latter, said: "Gerry was exactly the kind of producer I needed at the time.
"She believed in me and made me want to do my best for her."
A friend of Ms McClelland, Clare Brigstocke, said: "That Gerry McClelland chose assisted suicide in the face of her terminal cancer will come as no surprise to her many BBC friends and colleagues who knew her over her 26-year career.
"Her integrity, belief in social justice and unflinching honesty drew people to her and made her a role model for a whole generation of programme-makers."