Blackheath car fire victim had 'tried to rape' accused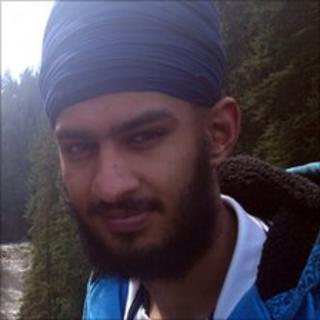 A woman lured a television executive to his death after he tried to rape her, the Old Bailey has heard.
Mundill Mahil invited Gagandip Singh, 21, to her home in Brighton six months after the attack, the court was told.
Within hours, Mr Singh lay dying in the boot of a car in Blackheath, south-east London, which had been set alight.
Harvinder Shoker, of Charlton Park Lane, Greenwich; Darren Peters, of Shooters Hill Road, Blackheath; and Ms Mahil, all aged 20, deny murder.
Aftab Jafferjee QC, prosecuting, told the jury that two "gangster" friends of Ms Mahil, from Chatham in Kent, lay in wait for Mr Singh, beat him unconscious, dumped him in the boot and drove to London where the fire was started.
Mr Jafferjee said Mr Singh and one of the accused, Mr Shoker, known as Ravi, were both "besotted" with Ms Mahil who was described by all "as an intelligent and attractive young woman".
Mr Singh was discovered after police came across the blue Mercedes on fire in Blackheath in February.
He was the owner of a new broadcasting service called Sikh TV and also helped in his family's successful packing business.
His father was murdered while visiting India in September 2009, the court heard.
'Betrayal of trust'
Mr Jafferjee said Ms Mahil and Mr Singh had been friends when she began a medical degree in Brighton in 2009.
He said: "She offered him emotional support and friendship and spent considerable time with him, mainly on the phone or internet, often into the early hours.
"He wooed her with offers of gifts and then sadly, at the end of August 2010, he stayed the night in the house she shared with fellow female medical students.
"It is common ground in this case that he tried to have sex with her, by getting into her bed.
"Both she and he were to describe it as an attempted rape. In fact, her description of events to her friends suggests that it did not get as far as that because she forced him away - and he broke down in tears and left.
"She was extremely upset and angry at what she - with some justification - perceived as a great betrayal of trust."
Mr Jafferjee said Mr Shoker had appeared in her life by this time and he was also besotted with Ms Mahil.
As the months wore on, Mr Singh tried unsuccessfully to contact Ms Mahil by bombarding her with texts and calls.
Mr Jafferjee added: "Ravi was infatuated by her and she knew it. Being infatuated by Mahil, he was more than willing to rid her of Gagandip and, as a consequence, he would expect Mahil to be forever indebted to him."
Mr Peters was "nothing more complicated than the hired additional muscle", he said.
Mr Peters told police he had gone with Shoker to steal a car and had not realised there was someone in the boot.
The case continues.