Gary McKinnon's life 'destroyed' by hacker extradition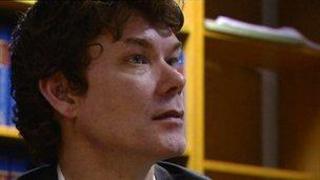 The mother of London computer hacker Gary McKinnon has called for her son to stand trial in Britain claiming attempts to extradite him to the US have "destroyed" his life.
Janis Sharp said her son faces his 10th Christmas since his arrest and is suffering severe depression.
"It has destroyed his life and it has destroyed ours," she told BBC Breakfast.
MPs urged the Government on Monday to change the UK-US extradition treaty.
Ms Sharp said: "Here the Crown Prosecution Service (CPS) said in 2002 that Gary was looking at six months' community service but then when the Americans took over suddenly it becomes 60 years.
"So there is a huge disparity."
'Gangland mobster'
Some MPs want the Government reform extradition laws to improve safeguards for British citizens wanted by authorities overseas.
The House of Commons agreed without a vote to call on ministers to bring forward new laws and attempt to change the UK-US extradition treaty and European Arrest Warrant regime.
Glaswegian Mr McKinnon, who lives in Wood Green, north London, has spent the last seven years facing the threat of extradition to the US after he hacked into top secret military computers in 2002.
American officials have demanded that he is tried in the US despite expert opinions obtained by Mr McKinnon's legal team warning that his mental condition could lead him to commit suicide.
Mr McKinnon, 45, admits the crimes but claims he was looking for evidence of UFOs.
Ms Sharp said: "Our argument is to try Gary here and to be given a proportional sentence. To go from six months to 60 years is ludicrous."
The Commons debate was granted by the backbench business committee to Tory Dominic Raab, who called for ministers to "inject a dose of common sense into the blunt extradition regime".
Mr Raab said: "Gary McKinnon should not be treated like some gangland mobster or al-Qaeda mastermind."